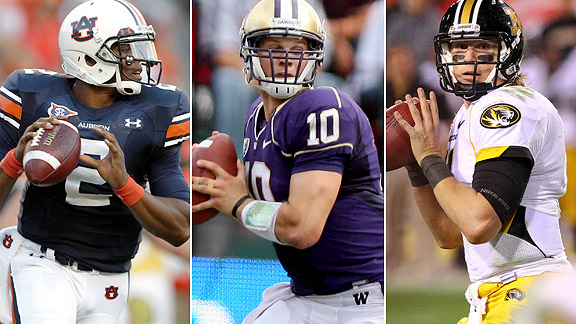 Kevin Seifret writes about the desperate need the Vikings are in of the most important position in maybe all of sports, a Quarterback.  The list of our past Quarterback's is depressing. It is time to make a move and plan for the future.
The Minnesota Vikings arrived at this week's scouting combine carrying the most intense personnel burden a team can face: They have no starting quarterback and no clear path for finding an obvious answer in the draft.

"We're going to look at all avenues at the quarterback [position]," vice president of player personnel Rick Spielman said at the NFL scouting combine, which he and his scouts are scouring for quarterback options. "… But you're hoping that by the time all the dust settles and we're getting ready to go into the season that we have that position pretty much resolved."

We've seen this act before, of course. Consider the first chart: The Vikings have been patching together this position for an extended period of their history, spanning multiple ownership regimes, personnel executives and coaching staffs.

In the 21 years since Tommy Kramer's final season, the Vikings have used 10 different primary starters. Most recently, they set themselves back with an indefensible plan to develop Tarvaris Jackson as their long-term answer. Jackson is a pending free agent and, with the departure of coach/benefactor Brad Childress, seems unlikely to return.

Can the Vikings make a similar grab at No. 12 overall this year? Will they move up to ensure they can draft Auburn's Cam Newton or Missouri's Blaine Gabbert, both of whom will likely be off the board at No. 12? Would Washington's Jake Locker make sense at that spot? Or would the Vikings identify a second-level prospect, perhaps Florida State's Christian Ponder, and maneuver to draft him in the second or third round?
Who should the Viking's pick up?