Between Two Worlds:  The Challenge of Preaching Today, by John Stott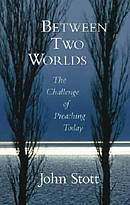 Stott's thesis is that preaching is the "indispensable for both evangelism and for the healthy growth of the Church" (9).  To accomplish his goal, Stott gives a historical sketch of preaching, responds to contemporary objections, provides theological foundations for preaching, speaks of preaching as bridge-building, tells preachers how to study, prepare, and encourages sincerity, earnestness, courage, and humility in the pulpit.
Summary:
Stott begins by giving a historical sketch of the centrality of preaching, and by so doing he demonstrates the long and broad Christian tradition of the centrality of preaching.  It was central to Jesus' ministry (Matt. 4:17; Mark 1:14), to the apostles (Acts 6:4), and the fathers.  It was also primary to the Friars who laid great stress on preaching everywhere they went.  The Reformers saw preaching as the most important function of the priest (23).  The Puritans and Evangelicals followed in the footsteps of the Reformers, and when the Nineteenth century came around you get people like Whitefield and Wesley.
In chapter two Stott responds to the contemporary objections to preaching including the anti-authority mood, the addiction to television, and the contemporary atmosphere of doubt.
He then gives five theological foundations for preaching: a conviction about God, Scripture, the Church, the Pastorate, and Preaching.  Chapter four is about having one foot in the text and one foot in the world.  Stott calls it bridge-building.  The chasm that preachers have to cross is "the deep rift between the biblical world and the modern world" (138).  Preaching that builds bridges is authoritative and adheres to biblical principles, but tentative in applying them to complex issues of the day.
Chapter five is a call to study.  As Calvin said, "None will ever be a good minister of the Word of God unless he is first of all a scholar."  A pastor is first called to study the Bible.  But in addition the pastor is called to know and study the modern world.  As Stott says we need to study both sides of the divide (191).  Stott ends the chapter by giving some practical advice on how increase our understanding of the modern world, in which he recommends reading groups.  He also encourages developing habits of study and warns of hindrances to study.
After Stott has laid his groundwork, he moves onto the practical nature of preparing sermons.  He details six steps:  Preachers much 1) choose their text, 2) meditate upon it, 3) isolate the dominant thought, 4) arrange their material to serve the dominant thought, 5) add the Introduction and Conclusion, and 6) write down and pray over their message.
Stott concludes the book speaking of how pastors must have a combination of sincerity, earnestness, courage, and humility.  Nothing takes away from the power of a message like hypocrisy, and to be earnest means to actually feel what you say.  It also takes courage to speak God's truth to people who will not always like it, but the pastor must do so in all humility.  The pastor is God's ambassador, and he must preach the message given to him and get out of the way and let God work.
Critical Evaluation:
Stott succeeds in developing his thesis.  He makes clear that preaching is indispensable by looking at the Scriptures, history, and responding to contemporary objections.  The rest of the book is more practical.  The practical nature of Stott's advice is unparalleled.  Many books on preaching give the impression that there is one way to do this thing we call preaching.  Stott acknowledges that a different personality enters into the pulpit than his own.  Therefore there are guidelines he gives, but he is not overly specific.  For example Stott asks, "How long should sermon be?"  Wisely he responds,
It is an impossible question to answer because there are so many imponderables.  It depends on the occasion and the topic, on the preacher's gift and the congregations maturity…But I think that every sermon should last just as long as the preacher needs in which to deliver his soul.  (292)
Or when he speaks of preparing sermons he says:
This is a very subjective matter.  There is no one way to prepare sermons.  Every preacher has to work out his own method, which suits his temperament and situation; it is a mistake to copy other uncritically.  Nevertheless, we can learn from one another. (213)
This is the type of advice you only get from a man who has years of wisdom to share.
Stott also rightly spends a good deal of time making sure that preachers understand both their contemporary culture as well as the Bible.  Preachers who cannot relate the truth of Scripture to their hearers are ineffective and soon their listeners will be bored stiff.
What was most impressive about Stott's book is his wide reading, clarity of writing, and reputable sources.  He interwove timeless quotes while at the same time making the book flow like a story.  Stott combined well a definite goal in mind, and getting there in an enjoyable way.  This reader left the book with the weight of preaching resting heavy upon his soul.
There are very few negative things to say about Stott's book.  The contemporary objections to preaching were a little out-dated and could be updated with more relevant ones such as: 1) responses to preaching as dialogue/conversation 2) thoughts on the over stimulated nature of our culture 3) the nature of truth in a postmodern world 4) the authority and nature of Scripture and many others.
The structure of the book could have also been tweaked by putting the theological framework before the historical framework.  In this way he would be establishing first what Scripture said before establishing the strong tradition of preaching in Christianity.
Conclusion:
Stott's book on preaching is a must read, if not only for the numerous invaluable quotes to which he refers.  This book has stood the test of time, and will continue to live on, because Stott's priceless advice.  Stott has years of wisdom behind this book and it as if the reader is sitting at the foot of a wise old preacher who is pouring his knowledge into our glasses, which are barely damp.