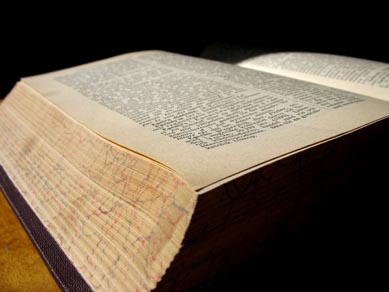 Ad Fontes is a Latin phrase that literally means "to the fountains." (I have "to the fountain" as a play on words.)
The phrase occurs in the Latin Vulgate version of Psalm 42:
quemadmodum desiderat cervus ad fontes aquarum ita desiderat anima mea ad te Deus.

(In the same way that the stag is drawn unto the sources of water, so is my soul drawn unto you, God)
It was a motto of the Protestant Reformers who pored over Greek and Latin texts, published new editions of old classics, and sought a moral-religious renewal.
The main fountain, the source, was the Bible.  It was a renewed time of interest in the original languages of the Bible.  This began with Erasmus and continued with people like Martin Luther, John Calvin, and William Tyndale.  This following excerpt from Luther was indicative for the time.
When I was twenty years old I had not yet seen a Bible.  I thought that there were no Gospels and Epistles except those which were written in the Sunday postils.  Finally I found a Bible in the library and forthwith I took it with me into the monastery.  I began to read, to reread, and to read it over again…
Luther came to the conclusion that scripture was norma normata (determined norm) for all decisions of faith and life.  This became known as Sola Scriptura.  The principle of Sola Scriptura was intended to safeguard the authority of Scripture from its dependence upon the church which made Scripture inferior to the church.
The Bible is the locus of God's self-revelation and self-disclosure.  The Scripture is God's self-expression, his authoritative speech, and describes how we can have a saving relationship with him through Jesus Christ.
By Scripture we know who we are, who God is.  We know how to think and act in the world.  We know where we are going, that we are free, and that God loves us.  We know that God desires all men to be saved, that we can do nothing to save ourselves.  We know that Jesus Christ is God incarnate, and that Christ paid the penalty for us, and that he is coming back.
The source of living water is known through the Scriptures, it is my desire that we all drink from the fountain.